Deposit checks in an instant with Heartland Credit Union's InstaCheckTM Deposit service! With InstaCheck, you gain the flexibility and convenience of depositing a paper check into your HCU account wherever and whenever it is most convenient for you! It's fast, secure and free. And just one more way HCU is helping you Get Connected to your finances. For detailed instructions on how to use InstaCheck please click on the Details tab.

How it Works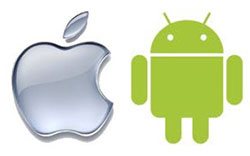 1. Make sure you have downloaded the HCU Mobile app available for iPhone*, iPad*, and Android devices. To download the app, simply go to the Android Market or Apple App Store and search for "HCU" or "Heartland Credit Union".
2. Sign on to your account on your HCU Mobile app using your HCU Online user ID and password
3. Choose "InstaCheck Deposit" from the app menu options.
4. Select the account into which you want to deposit the check
5. Enter the amount of your check. Remember to sign the back of your check to endorse it.
Endorsement on back of check should include the following:
        Member Signature
        For Deposit Only
        Heartland CU
        Account Number
6. Snap pictures of the front and back of your check.
7. Submit the check for deposit (this may take a few short moments to process)
8. Get on with your day!
9. Retain the check for 60 days, then destroy or mark VOID on the check.
*InstaCheckTM is not available for the following:  Apple iPod Touch 4th generation or older, Apple iPad1 and Apple iPad2.  This is due to low camera resolution causing a bad user experience.

Are you having problems making your InstaCheckTM Deposit?  Here are a few tips to correct the most common problems.
Here is an example of a good check image.  The whole face of the check is in the photo, the lighting is even across the face of the check, and the background contrasts strongly with the color of the check.
Tip 1: Make sure that all four corners of the check are in the photo.
Tip 2: Be sure to take the photo on a flat surface that contrasts well with the check.
Tip 3: Ensure that you have adequate lighting to get a sharp picture. 
Tip 4: Take the photo looking directly down on the check.  Be careful not to get your own shadow in the check.  If necessary, take the photo near a desk lamp or an outside window for better lighting.
Tip 5: Lay the check flat on a solid surface, and remove any wrinkles in the check before taking the photo.
 Still not working?  Here are a few other ideas that may help you make your InstaCheckTM Deposit.
Make sure that there are no Effects being applied to the photographs, and that they are being taken in full color.
Try turning your camera flash on, or turning it off. Certain lighting conditions are helped by having the flash on, but certain checks can become unreadable under flash conditions. Try it both ways.
If the check is hand-written and the dollar amount isn't clearly readable, InstaCheckTM may have problems reading the amount. In situations like this, be extra diligent in getting the correct lighting.
Some types of checks are not depositable with the InstaCheckTM Deposit. Checks that have been known to cause issues include airline refund checks (typically have very unusual check layouts) and checks that use reverse text (white text on a black/gray background), especially in the dollar amount field.
Certain mobile phones have problems producing usable photos. Check with your cell phone carrier to make sure you have the current version of operating system installed.
Older mobile devices (such as Apple iPod Touch 4th generation or older, Apple iPad1 and Apple iPad2) have failed to produce usable photos due to poor camera resolution.
Need additional help? Visit your local HCU branch or contact our friendly Phone Center staff at 620.669.0177 or 800.428.8472.